How To Choose The Right CBD Product For You?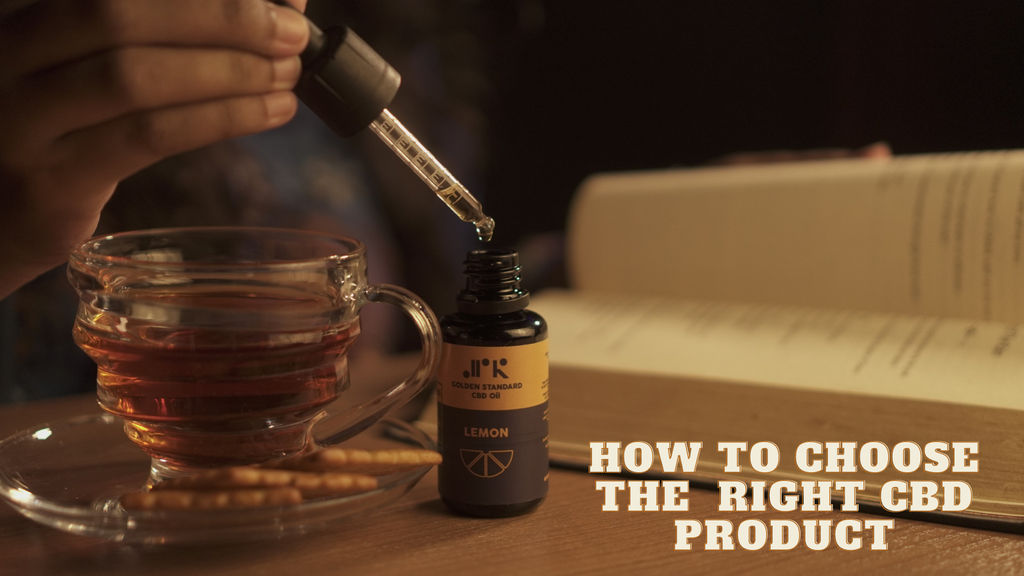 Finding the right CBD product among many brands out there can be tough, this is why we are bringing you 7 things to look out for when you are choosing a CBD product for you. 
Before we start, we would like to tell those who feel nervous to try or purchase CBD products that CBD is completely legal and safe to use, in fact it can give you a range of benefits but you must make sure you are getting the right product.
1. Do Your Research:
First, gain an understanding of exactly what CBD is. Understand the difference between Hemp Oil and CBD Oil to make sure you are getting the right product for yourself. 
Hemp seed oil is made from the plant's seeds. It has a rich nutritional content — omega fatty acids, proteins, vitamins. Trace minerals but doesn't contain any CBD or any cannabinoids. Hemp oil is mostly made by cold-pressing the seeds.
Whereas, CBD oil is extracted from the plant's flowers where all the cannabinoids, terpenes, and flavonoids are secreted. The flowers are harvested and then treated with pressurized CO2 to pull the beneficial compounds. From the plant material which results in a thick, dark liquid with a botanical smell. The oil is then suspended in a food-grade carrier oil.
So, as the products use different parts of the plant, they have different properties and applications.
If you choose to have CBD oils. Read through the side effects, applications and then you would know which product will help you and how. 
2. Look If The Brand Does Third Party Testing
All reputed brands should do third party testing so the quality testing is impartial. Look for the third party testing reports on their website. 
All products of Dr.K undergo third party testing, even though the formula is curated by a doctor himself. 
3. Choosing Which Form Of CBD To Take
Ensure you buy the right product for you. There are many different CBD products online - from oils to balms to face creams - therefore, it is crucial that you browse all available options before making a purchase so that you can find the perfect product for your needs. For example, if you are looking for a product that provides you with pain relief, you may wish to purchase a balm over a face cream. Which is designed to promote healthier skin.If you are unsure of which product to purchase, ask your retailer for guidance and advice.
Choosing  CBD
If you are considering to try out Dr.K products, you are directly DM us/ email us with questions and we will answer any questions you might have.
If you want to try edible CBD, then there are gums and oils, and you might be wondering which one to go for. Don't worry we are here to rescue you. 
Gummies & CBD oils have different experiences. 
Gummies can only be eaten on its own but CBD oils can be used on its own, applied to skin and even infused in drinks/food. When infused in food, CBD oils would cause a similar effect as gummies. 
The body absorbs the CBD in the gummy through the digestive system so it takes an hour or two to start feeling the effects of CBD, however if you have CBD oil directly (especially if given right under the tongue) can show its effect within 20 minutes! The blood vessels in the tongue absorb the CBD much quicker than the digestive system. 
CBD gummy has a fixed dosage. If you are not familiar with using a dropper, you might not get your desired dosage each time but with gummies you get the exact dosage as mentioned in each gummy. 
But the fact that CBD oils have a dropper, it is useful for beginners to adjust dosage according to their needs. They can start small and slowly move upwards. 
Gummies come in different flavours, but usually CBD oils aren't flavoured unlike Dr.K CBD Oils which gives you 3 different flavours to choose from (Original, Lemon & Peppermint) 
4. Choosing The Strength/Dosage: 
You should pay attention to the strength or potency of the product you are purchasing, as these often vary. Don't buy a product that is too strong for your needs/requirements. If you are beginner, start with the smallest dose. We start our CBD oils from 300mg, and you can try a flavoured one to start with (our customer favourite is Lemon flavoured) 
Below images are a guideline which can help you understand the right dosage & strength for you: 
We have another blog to guide you in meauring the right dosage, click here
If you still have more queries, you can always reach out to us. 
5. Read Customer Reviews.
Another way in which you can protect yourself when buying CBD products online is by reading reviews by previous customers. Many websites have a 'review' section that you can browse through, or you can search the brand online to find out what previous customers have been saying about their products. This can help you decide whether or not a product/company is right for you. 
6. Check The Active CBD Level Of The Brand
Did you know that the higher the active level of CBD used, the lower the strength needed for the same results?!
The industry average in the U.K. ranges between 40-60%
So if you are choosing a CBD oil with high active level of CBD then its 300mg oil bottle can give you the same effect as a 500mg oil with a 50% active CBD  helping you save money without compromising on quality. 
[ Dr.K CBD has over 85% active CBD! ]
7. Choose A CBD Product Trusted By Doctors
Dr.K CBD products are curated by a doctor himself, who had experience working in the health care industry. He found a gap in the market for quality products so decided to start this brand. 
Dr.K CBD has over 85% active CBD so you are getting the most out of each drop. 
Our CBD oils (Starting from 300mg upto 1500mg) comes in 3 flavour options - Natural (Organic Unflavoured with no earthy taste), Peppermint & Lemon. We also have face creams, hand creams and balms for your distinct requirements. 
Use the code "WELCOME2DRK!" for 20% off on your first order!
(Blog by Faabiha Khan)