How Peppermint CBD Oil Can Enhance Your Wellness Routine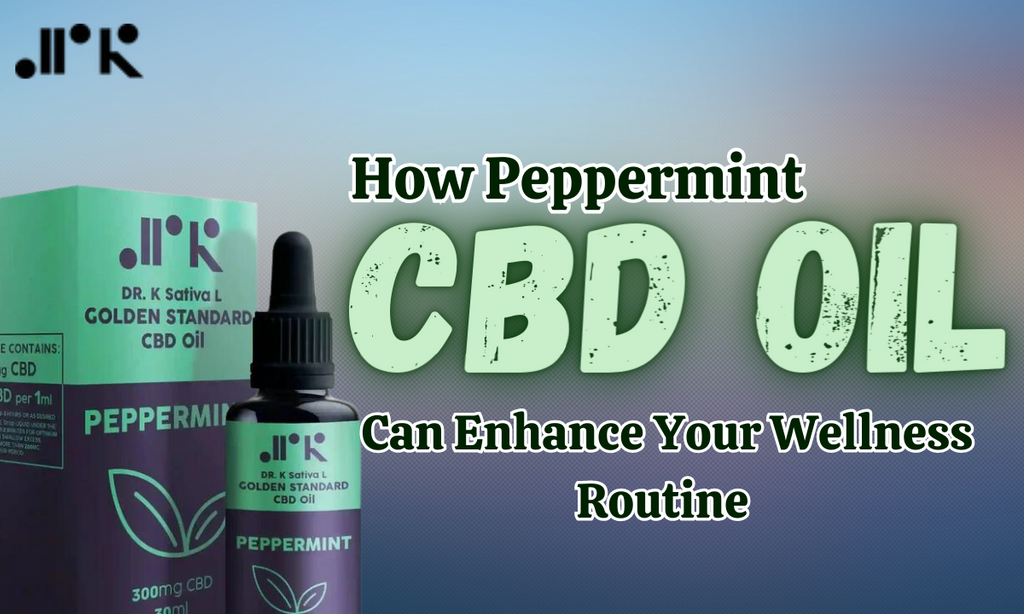 In the fast-paced world we live in, finding ways to enhance our wellness routine is crucial for maintaining balance and well-being. One natural and versatile option gaining popularity is Peppermint CBD oil. In this blog, we will explore the numerous benefits and applications of this potent combination, focusing on how it can positively impact your overall wellness. Let's embark on a journey to discover the wonders of Peppermint CBD Oil and how it can become an integral part of your daily self-care routine.
Understanding Peppermint CBD Oil
Peppermint CBD oil is the perfect fusion of two powerful elements: CBD derived from hemp plants and the refreshing essence of peppermint. CBD, or cannabidiol, is a non-psychoactive compound known for its potential to promote balance within the body's endocannabinoid system. 
Composition of Peppermint CBD Oil
Peppermint CBD oil is a popular natural supplement known for its potential health benefits and soothing properties. This unique blend of ingredients combines the power of cannabidiol (CBD) with the refreshing essence of peppermint to create a wellness elixir that promotes overall well-being. The composition of Peppermint CBD oil is meticulously crafted, ensuring the highest quality and effectiveness. Here are the key components that make up this exceptional product:
Organically Grown Hemp 
The foundation of Peppermint CBD oil lies in the premium hemp plants cultivated using organic farming methods. This ensures that the oil is free from harmful chemicals and pesticides, providing a pure and safe CBD experience.
Full-Spectrum CBB
The oil contains full-spectrum CBD, harnessing the benefits of various cannabinoids, terpenes, and flavonoids present in the hemp plant. This synergistic combination, known as the "entourage effect," enhances the overall therapeutic potential of the oil.
High CBD Concentration
Peppermint CBD oil boasts a high concentration of CBD. So, it is carefully extracted to preserve its potency. Each drop offers a precise and consistent dosage to deliver optimal results.
Peppermint Essential Oil 
To complement the CBD, this oil incorporates the invigorating essence of peppermint. The addition of pure peppermint essential oil not only enhances the taste but also contributes to its calming and digestive properties.
Carrier Oils
The oil blend utilizes natural carrier oils like MCT (medium-chain triglyceride) or hemp seed oil. Hence,  facilitating better absorption of CBD and other essential components.
Lab-Tested and Certified
To ensure the utmost quality, each batch of Peppermint CBD oil undergoes rigorous third-party lab testing. Therefore, this process guarantees that the product is free from contaminants and meets industry standards.
Non-Psychoactive
The oil contains only trace amounts of THC. So, it ensuring that it is non-psychoactive and will not induce a "high" feeling.
Free of Additives
Peppermint CBD oil is free from artificial colors, flavors, So, preservatives, maintaining its natural purity.
Benefits of Peppermint CBD Oil
Meanwhile, peppermint, with its invigorating aroma and soothing properties, offers additional wellness benefits.
A Natural Boost for Mental Well-being
One of the most notable benefits of CBD oil lies in its ability to promote mental well-being. The combination of CBD's potential calming effects and peppermint's refreshing scent can help reduce stress and anxiety. Incorporating this oil into your daily routine can create a tranquil atmosphere, supporting relaxation and focus.
Easing Physical Discomfort
Peppermint CBD oil can be a valuable ally in managing physical discomfort. The anti-inflammatory properties of CBD combined with peppermint's soothing qualities work synergistically to provide relief for sore muscles and joints. Whether you're recovering from a strenuous workout or dealing with chronic discomfort, this natural remedy may become an integral part of your pain management routine.
Supporting Healthy Sleep Patterns
Achieving quality sleep is essential for overall well-being. Peppermint CBD oil can be a game-changer for those struggling with sleep disturbances. The calming properties of CBD, complemented by the refreshing scent of peppermint, create a conducive environment for relaxation. So, it is helping you achieve a restful night's sleep.
Enhancing Digestive Health
Peppermint has long been celebrated for its benefits on digestive health. Therefore, when combined with CBD's potential to regulate the digestive system, it can help alleviate occasional digestive discomfort and promote a healthy gut.
Aiding Skin Health
Your skin deserves the best care, and CBD oil can offer just that. The anti-inflammatory properties of CBD, along with peppermint's soothing effects. So, it makes this oil a fantastic addition to your skincare routine. In Addition, It can help reduce redness, irritation, and promote a balanced complexion.
Versatile Application
Peppermint CBD oil comes in various forms, from tinctures to topicals, offering flexibility in how you integrate it into your wellness routine. Furthermore, add a few drops to your favorite beverage or massage the oil into your skin for targeted relief. The versatility of CBD oil makes it an excellent option for enhancing various aspects of your daily self-care regimen.
Conclusion
Peppermint CBD oil holds immense potential in elevating your wellness routine and promoting balance in both body and mind. From supporting mental well-being and improving sleep patterns to easing physical discomfort and enhancing skin health. So, the benefits of this natural fusion are numerous and versatile.
As you embark on your journey to prioritize self-care and holistic wellness. So, consider introducing Peppermint CBD oil into your daily routine. Embrace the refreshing and calming essence of peppermint combined with the wellness properties of CBD to achieve a healthier. So, it leads to the balanced life. With this potent combination by your side. So, you can experience the transformative power of CBD oil and embrace a life of vitality and well-being.