Extract vs Isolate vs Distillate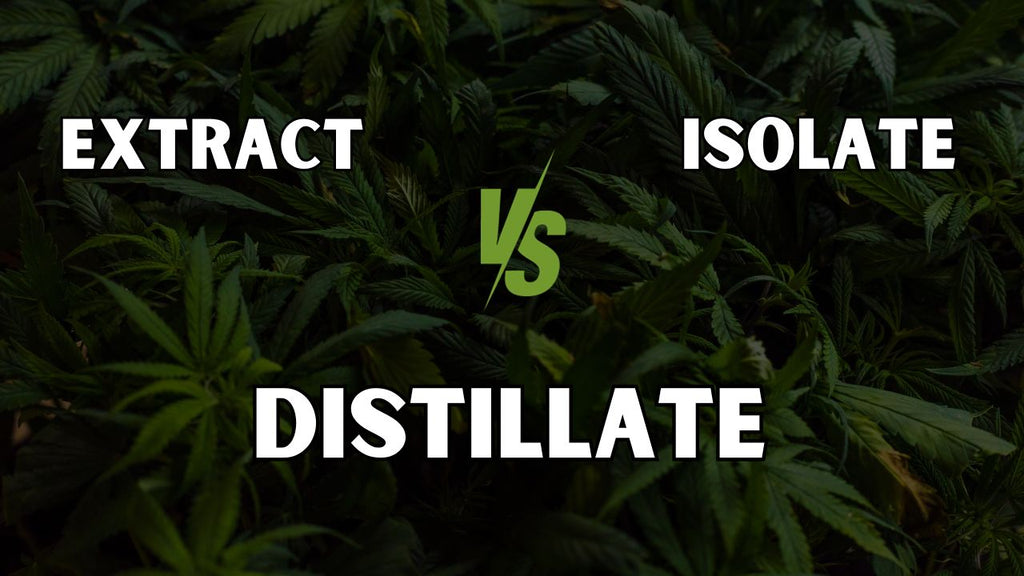 One thing that is important to understand when venturing into the world of CBD is the difference between these 3 things: CBD extract, CBD isolate, and CBD distillate. There are so many different products on the market that provide consumers with so many different options. This is why it's good to know exactly what you're looking at.
In this article, we will explain the difference between these types of CBD so that you can understand exactly what you're buying. This new understanding should help you decide which type of CBD will best suit your preferences.
CBD Extract
This CBD extract- sometimes referred to as full-spectrum and broad spectrum CBD - contains everything all of the benefits of the whole hemp plant - cannabinoids, terpenes, and organic plant material.
CBD Extract UK
In the UK, the THC content of a CBD product must be below 0.3% or less than 1mg in a finished product. If it's higher than this, the product will be illegal to sell and could potentially be dangerous. This is why it's so important to buy from a reputable brand who can provide you with cannabinoid testing reports. Dr K CBD oils are THC free and non-psychoactive.
Full-spectrum extract is great for those who want to experience the full entourage effect and aren't concerned about the inclusion of THC.
CBD Isolate
CBD isolate is the purest and most refined form of CBD. This type of extract contains no other cannabinoids, oils, terpenes, and any other organic hemp matter. It is simply the CBD compound which is 99.7% pure.
During the extraction process, everything is filtered out apart from the Cannabidiol (CBD) compound. This creates a powder or crystalline form of CBD extract which can then be put into various CBD products, like oils, gummies, or creams.
Due to the fact that all other organic matter is removed, CBD isolate is pretty much tasteless. This makes it a good option for those who want a product without any trace of the natural, earthy hemp flavour associated with other CBD extracts.  However, this type of CBD does lack the advantages that a combination of cannabinoids and plant matter can provide. This is referred to as the entourage effect. We will discuss this in more detail below.
CBD Distillate
CBD distillate - sometimes referred to as broad-spectrum - is very different from CBD isolate. As well as the fundamental CBD. It can contain traces of other cannabinoids (e.g. CBG, CBC), terpenes, and other organic plant matter.
Terpenes, found in most plants, impart unique aromas and flavors to them. Hemp terpenes are believed to offer a wide range of health benefits to humans. For instance, Humulene is considered effective as an anti-inflammatory, while Caryophyllene is believed to possess antioxidant, antibacterial, and pain-relieving properties.
This combination of powerful cannabinoids and terpenes is what creates the entourage effect, which we briefly mentioned above. The entourage effect occurs when lots of different compounds work together synergistically to boost the overall therapeutic effects of the extract. This can essentially mean that a product infused with CBD distillate is more powerful than a product infused with CBD isolate.
The significant thing to note about CBD distillate is that it contains no THC. During the extraction process, the cannabinoid THC is filtered out completely. This is appealing to many people who want to avoid having THC in their system. THC is a psychoactive and controlled substance - although the amount consumed would be tiny, some people would prefer to avoid it altogether.
So, CBD distillate is a great choice for those who want to utilise the power of the entourage effect without having to consume any THC.
Summary
So, in summary:
CBD extract contains all naturally occurring cannabinoids, terpenes, and plant matter.
Isolate is a pure concentration of isolated CBD.
CBD distillate contains all naturally occurring cannabinoids, some terpenes and plant matter.
References
comments ( 1 )